---
| | |
| --- | --- |
| Adventure Packages | |

All-inclusive of all meals, all guides, transport and refreshments on tours, permits and fees, etc.
Accommodation at Fondes Amandes House overlooking the capital, Port of Spain, and at Forest Lodge, above a secluded beach deep in the Northern Range,wilderness
On request you may opt to stay at the Hilton or Holiday Inn, etc. The extra charges can be added to cost
Itineraries are created for you. These samples of popular packages are guidelines only. Some events are seasonal. Weather and other variables may alter schedules

5 DAY PACKAGE approx USD $900 - Minimum 4 persons

Day 1
Orientation at Fondes Amandes House / City Tour Chaguramas National Park
Day 2-3
North Coast Hike Forest Lodge for two nights
Exploration of Northern Range Mountains and Rivers.
Day 4
Hike to Paria Beach and Waterfall
Day 5
Caroni Swamp boat trip. Scarlet Ibis bird watching
10 DAY PACKAGE Approx. USD $1,500
| | |
| --- | --- |
| Day 1 | Orientation - City Tour- Chaguaramas National Park. |
| Day 2 | Nariva Wetlands Exploration by Kayak, boat or on foot in the dry season |
| Day 3 | Tour of Central lowlands / Hindu temples East Indian Culture / Caroni Swamp / Birdwatch Scarlet Ibis |
| Day 4-6 | (Forest Lodge) - Exploration of upland forests, valleys, rivers and waterfalls |
| Day 7 | Hike to Paria Beach and Waterfall |
| Day 8 | "Down the Islands" boat tour Gulf of Paria OR 2-day scuba dive in Tobago |
| Day 10 | Departure |
---
| | |
| --- | --- |
| Carnival Package | |
This package combines two unforgettable experiences-- and the celebration of a Carnival that rivals that of Rio and New Orleans and exploration of natural diversity- tropical forests, waterfalls.
The multi-ethnic roots of the people of Trinidad and Tobago have produced a culture, which is colorful and creative - rich in the arts, painting, music especially steelband and Calypso.
Caribbean Discovery Tours will guide you through the festival and then take you to the cool Northern Range forests to recover in a mountain waterfall pool
Five Days including Transfers, Orientation and pre -Carnival Tour, Breakfasts, Transport Sat-Tues to Carnival Center, Tour of Mas Camps, Post Carnival Forest adventure.
Tour:
USD $600 per person Double occupancy
Extra nights:
USD $50 per person Double Occupancy
USD $90 Single

We can arrange that you have a costume made for you beforehand if you wish to play with a band. Depending on your choice this will cost USD $200 - $500.
---
| | |
| --- | --- |
| Tobago/Trinidad Package | |
We would collect you from the airport, take you on any of the tours and return you to the airport in the evening.
Selected tour costs USD 20 per person per airport transfer.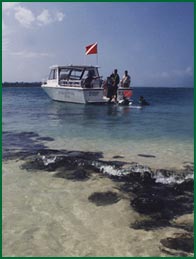 ---