Possible sightings- Channel Billed Toucans, Trojans, Halks, Golden- headed Manikin, Howler monkeys
The hike to Mt Tamana reaches the highest point in the Central Range. It is a not too demanding and covers very beautiful terrain.
We travel from Port of Spain by Land Rover past many quiet villages and cocoa plantations through rugged unpaved roads to the beginning of the trail. The pace is surprisingly easy along a trail that winds for the most part, under a thick forest canopy, steep in places but hawks off along a ridge. Hawks, blue headed and orange winged parrots are often seen there.
On the return we rest at a large lime stone cave really a sink hole and wait for sundown to see the eruption from a fissure in the earth of a rushing black cloud of thousands of bats on their nightly foraging journey. They are soon gone and we descend to a world tinged with the vibrant colors of the tropical sunset.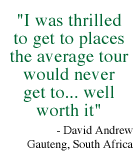 Mt Tamana peak is treeless and windy and gives an incredible view of miles the forested slopes of the Central Range. Wide vistas of thick forest with glimpses of Area dam and the Gulf of Paria beyond the Central plain.
| | |
| --- | --- |
| Participation: | Minimum of 2 persons |
| Price per person: | USD $130 |
| Duration: | 12pm - 9pm |
| Level: | Moderate, some uphill climbing |