This is a memorable exploration by kayak, or dingy, or on foot in dry season, of the famous Nariva Swamp. Nariva is 6,254 hectares of wetlands, marshes and swamp forests teeming with more than 200 species of birds -- Snowy Egrets,The Black-crested Antshrike, Silvered Antbird, Green throated Mango, Flycatchers Kingfishers, Savannah Hawks and Azure Gannilule.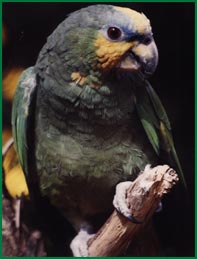 The vivid colours and loud chatter of the red bellied Macaws and Flocks of Parrots interrupt the silence of the peaceful lily covered expanses of Nariva.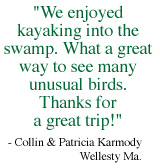 Howler and Capuchin monkeys call from the tops of giant trees. Nariva is the habitat of a variety of small mammals including Ant-eaters, Porcupines, the endangered Ocelot, and the Manatee.
Swamp fringe culture Hindu/ Christian/Muslim, is hospitable and a visit with them offers an interesting glimpse of a unique, tolerant and self-sufficient lifestyle.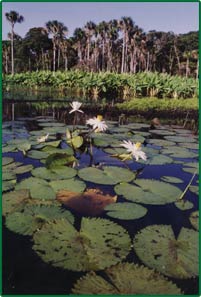 | | |
| --- | --- |
| Participation: | Minimum participation - 2 persons per trip |
| Price per person: | USD $130 to $150 - includes breakfast, snacks and lunch |
| Duration: | 5:00 a.m. - 5:00 p.m. |
| Level: | Moderate Hike |